HORIZONS ACADEMY - NEW ACCREDITATION - CBTA CENTER PROVIDER-IATA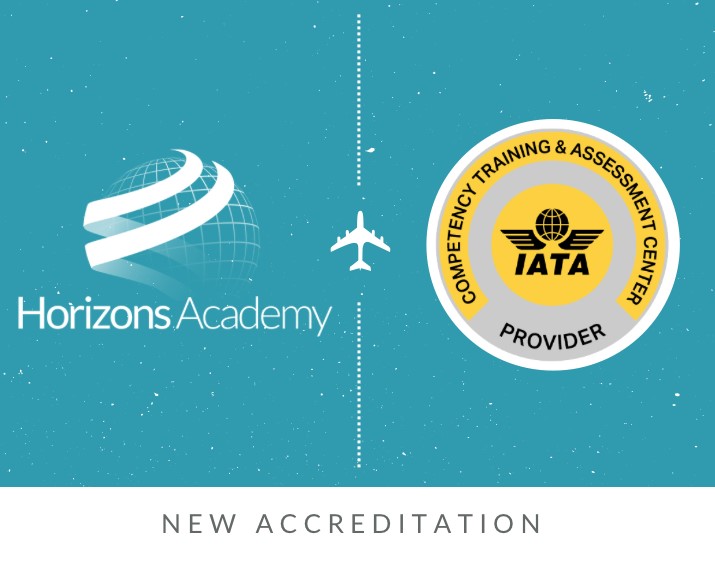 HORIZONS ACADEMY BECOMES ONE OF THE FIRST CENTER IN THE WORLD TO BE CBTA CENTER PROVIDER-IATA ACCREDITED
Horizons Academy is one of the first 20 world known training centers and amongst the first 10, in Europe, to receive the CBTA Center Provider accreditation by the International organism IATA (International Air Transport Association).
As an already « Accredited Training School » since 2015, this new accreditation will allow Horizons Academy to shine on an international level and to offer to not only individuals but also to businesses, a competence based training for dangerous goods transportation.
A new approach in the "dangerous goods" competency-based training
Up to now, 17 categories of employees existed depending on the in-house demand. Therefore, all cabin crew members, such as flight attendants, in the 11 IATA category, followed a pre- established and general training program for any of the job functions related to dangerous goods.
Starting january 1,2023, all will change!
In fact it will not be title of the job that will determine the training contents (training and evaluation plan), but the tasks and skill levels expected for each employee.
Also, it will not only be the responsibility of employers (shipping companies, airlines, freight companies, etc.) to assess the specific skills 5and those that will be expected by the employees involved in the transport, handling or shipment of dangerous goods) but also to implement a training and evaluation plan for employees according to the tasks performed.
It will also be up to the employer to establish a program that will guarantee employees to maintain the level of competency required for the two years following their certification.
This new "Competency based training" concept, centered on the learner, is mainly based on 4 pillars:
Employee-specific tasks and missions

Achievement of targeted skill level

Tailored program

Continuous and personalized assessments
Partners & Employers, Horizons Academy is here for you!
With this CBTA CENTER PROVIDER approval, Horizons Academy is now authorized to develop "tailor-made" and "personalized" training for employers.
Horizons Academy offers consulting and support services for all employers entrusting us with the training of their staff, specifically in the skills assessment context and the creation of training and assessment plans.
Our training program also includes a "post-training": a follow-up to facilitate the maintenance of the skills of trained personnel and allow employers to be in full compliance with the new training requirements in the field of dangerous goods transportation..
Developing training programs is a big job and we can help you!
Contact our "Dangerous Goods" department dedicated to professionals today: https://horizons-academy-pro.com/contact-us/
Learn more about Horizons Academy:
Our website: https://www.horizons-academy.com/Accueil.ph
Our centers: https://www.horizons-academy.com/nos-centres.html
To pre-register: https://www.horizons-academy.com/preinscription.html
Information meetings : https://www.horizons-academy.com/Inscription_reunions_informations.html